Visit of the Commercial Counselor of USA in Prisma Electronics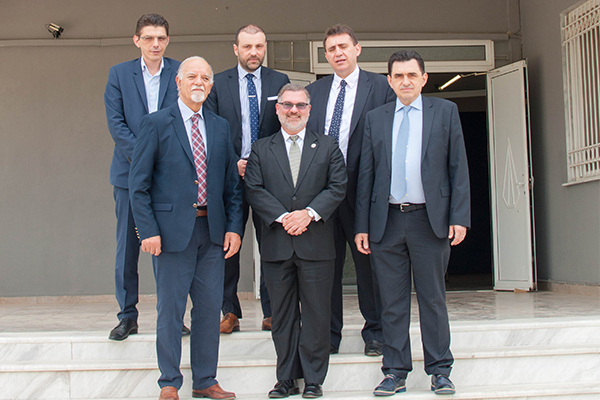 On Wednesday, the 24th of May 2017, the Commercial Counselor of USA in Greece, Mr. Bryan Larson, accompanied by Mr. Konstantinos Hatzimichael, Chairman of Alexandroupolis Trade Association, visited the premises of Prisma Electronics SA in the Industrial Area of Alexandroupolis.
Mr. Larson was informed by Mr. Soukoulias, Chairman of the Scientific Board of Prisma Electronics, about the activities and capabilities of the Company. The Commercial Counselor addressed a number of questions, about the corporate technologies and products, especially about LAROS solution, the engagement in Space projects, the collaboration with the research community, as well as, the corporate connections with American companies. Afterwards, he was given a tour to the facilities of the Company, expressing special interest in the ongoing project of ESA, "Solar Orbiter", the research project "MEPS" about Electrical Propulsion of Micro-satellites, along with the Clean Room of the Company.
In the interview that followed, Mr. Larson stated that he was impressed by the detailed presentation, as well as the involvement of the Company in Space, Maritime and the cooperation with CERN. "I didn't expect to meet a company with such activities in the area of Alexandroupolis" he mentioned, while he encouraged the penetration to the big market of USA. From his side, Mr. Christos Giordamlis, Managing Director of Prisma Electronics, thanked Mr. Larson for the visit and offered him a small, yet symbolic gift of local products.
The visit of the Commercial Counselor of USA, was the third important visit in two months' time that followed the one of Mr. Pitarelli, Head of the Industrial Policy Department of ESA and the one of the Greek Minister of Digital Policy, Telecommunications and Media, Mr. Nikos Pappas and is indicative of the important presence of Prisma Electronics in National level.